Minimizing environmental impact with volcanic clay
We have made a unique covering of volcanic clay in Näsliden, Västerbotten. High performance is the key when we reclaim a closed mine.
In connection with the winding up of operations in Näsliden, the site was reclaimed. Our checks of the water downstream showed, however, that the reclamation process had not been entirely satisfactory.
"We've seen an environmental impact. Our sampling showed that zinc, cadmium and copper in particular have leached out of the tip at levels that will have negative consequences for the environment. The covering that was applied in the 1990s is not enough, although it is approved, and we did everything according to the requirements in force at that time," says Marie Lindgren, Development Engineer at Boliden Mines.
Investment in performance
During the summer, the waste rock tip was covered with a mixture of moraine and bentonite, which is a volcanic clay, in this case taken from deposits in Denmark. Adding bentonite to a sealing layer mixture is a familiar technique from landfill sites. But this is the first time we have done it on such a large scale at Boliden.
"We've made the very best covering we could. So we've really invested in performance. The way it works is that the bentonite clay swells in contact with water and is forced into the pore volume in the moraine. This means that the sealing becomes very dense and retains water, which in turn protects the waste rock tip against water and oxygen penetration. We strive to reduce oxidation and leaching from the waste rock as much as possible," says Marie.
However, there is an area of the covering where green liquor sludge has been used, which is a residual product from the paper industry.
"During 2016 we examined the possibility of using green liquor sludge at full scale, but it was difficult to achieve a consistent quality in the mixture. Our test area will be followed up on through a research project with Luleå University of Technology and Processum," says Marie.
Water treatment as long as necessary
During the autumn, the covered waste rock tip was sown with a grass mix containing a lot of clover, as requested by the local Sami settlement. Barbecue areas have been set up, and now all that remains is to plant trees, as well as install new instrumentation for following up on the sealing layer.
"This will, for example, measure parameters such as moisture in the sealing layer, water potential, temperature and water throughput. It is crucial for us to be able to check that the sealing layer is working as anticipated. We will also have a water treatment plant in place that will remain until the metal contents fall below the limit values," concludes Marie.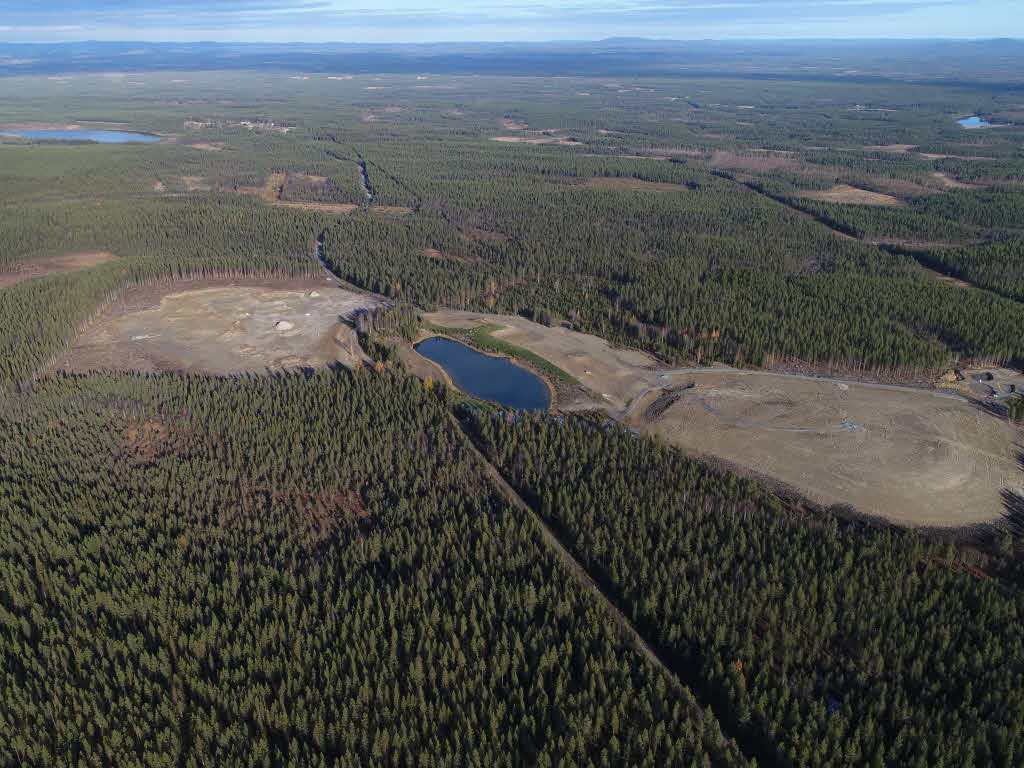 Aerial view: The newly reclaimed mine has been covered and grass has been sown. Barbeque sites have been set up, and the next step is planting trees.