Boliden's forests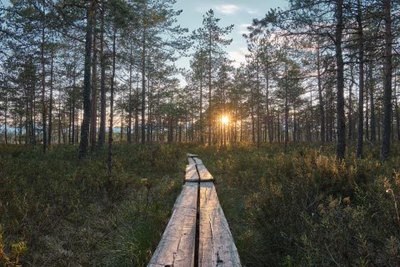 Boliden owns a total of around 59,000 acres of land of which 35,000 acres is forest. The biggest holdings are located around our active mines, Aitik, Garpenberg and the Boliden Area. We also own land around our old disused mines such as Saxberget, Vassbo and Enåsen.
Boliden manages its forest in compliance with the Forest Stewardship Council recommendations (FSC – an international non-profit organization that promotes responsible forestry). Ten percent of the forest we own is set aside for free growth, which means no logging takes place in these areas. Five percent of our forest is treated with special care for the benefit of various woodland species. The remaining area is managed conventionally and we fell around 8,500,000 board feet of lumber every year.
Boliden has also begun work on creating nature parks from our forest properties. The aim of the nature parks is to support biodiversity and increase natural values. Our first biodiversity park will open in Lauker, Norrbotten in the spring of 2023. The park contains high natural values and protected species that we are trying to support through forest management. We have introduced floating duck islands on a lake on the property, set up nesting boxes and cleared away undergrowth. We will also create a 600 hectare natural park in Örebro county, in addition to the 250 hectares on the same property let as a nature reserve.
Forestry has five different components; first, we perform regeneration logging on old-growth forest. When we carry out regeneration logging, five percent of the trees are left for the benefit of nature conservation and biodiversity. After regeneration logging, we prepare the soil and create space for new seedlings. We plant at least two trees for each tree felled. After planting, the forest needs to be cleared of undergrowth when it's 10-20 years old. After clearing, there are one or two thinnings when the forest is between 40-60 years old. And at 80-120 years we come full circle as it's time for regeneration logging again.
We engage contractors to help us with forest management, and they carry out clearing, planting and controlled burning. Every year we spend SEK 1 million on clearing forest, and SEK 0.5 million on forest roads.
Boliden has forests very close to urban areas around the mining communities. Great emphasis is given to recreation and outdoor activities in these forests. We take care of school woodlands, illuminated trails, rest areas, barbecue pits and windbreaks on our land.
Boliden's forest management department also purchases real property, primarily for the development of present and future mines.
​​​​​​​The aim is to manage forests for future generations. Everyone should be able to enjoy leisure time and well-being in Boliden's forests.