One of the largest recycler of electronic material
Boliden's Rönnskär smelter in northern Sweden is one of the world's largest recycler of metal from electronic material. The facility also minimizes its emissions and generates electricity and district heating from electronic material
Boliden's Rönnskär copper smelter, located outside Skellefteå, has been recycling various waste materials since the 1960s. Today, the smelter's annual capacity for recycling electrical material is 120,000 tonnes, including circuit boards from computers and mobile phones that are sourced primarily from Europe.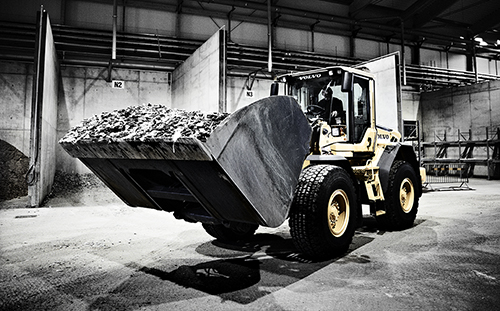 The electronic material arrives at Rönnskär by train or truck from southern Sweden and has already been dismantled, with much of the plastic, iron and aluminium removed. The electronic material is sampled and shredded before being sent to a Kaldo furnace, which Boliden has specially adapted for smelting electronic material. The furnace consists of a leaning cylinder that rotates during the smelting process to ensure an even heat distribution. The smelted material, known as black copper, then joins the facility's main smelter flow for further refining to extract copper and precious metals.
Minimal emissions
Electronic material often contains potentially hazardous substances and must be processed in a manner that ensures minimal environmental impact. The Rönnskär smelter is equipped with advanced systems to clean process gases and discharge water. Wet gas purification uses water to wash out dust particles, which are returned to the refining process. Rönnskär is also equipped with an additional purification stage for mercury.
Rönnskär's environmental standards were tightened in 2015 when the smelter received a new environmental permit. Air emissions and water discharge have been significantly reduced by 50 percent or more.
Electronic material to community district heating
Plastic in the electronic material melts during smelting, which acts as a source of energy and generates steam that is converted into electricity or district heating. The heat is partially reused as district heating in the plant area and the remaining heat is supplied to the local district heating system.