High tech dam safety
The Hötjärn tailings dam is equipped with a high-tech surveillance system, which uses fibre optic sensors within and around the dam and ponds to monitor dam safety in real-time.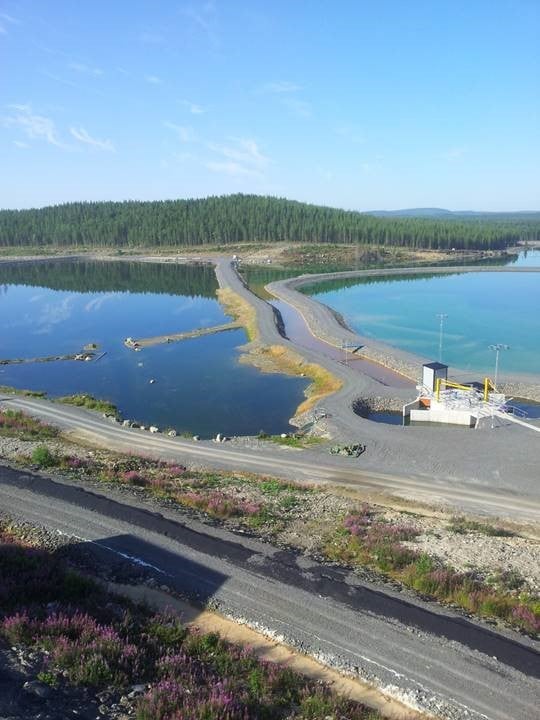 The system, which has been in operation since spring 2014, allows staff in the mill control room to monitor and analyze various real-time measurements, within and around the dam. This access to real-time information enables teams to react quickly with the appropriate response in the event of issues that may result in excessive seepage or even compromise dam safety.
The system is continuously monitored to detect changes. Every year, a measurement evaluation is conducted, where all the collected measurement data is analysed, and, based on that evaluation, a comprehensive assessment of dam safety is made.
From 2019, the system – in addition to measurements to detect seepage (which can identify any increasing seepage that can eventually become a problem) – can indicate any movement changes in the dam through what is called "signal attenuation".
"If the dam shows signs of settling or shifting that cannot be detected with the naked eye, then we get a signal alerting us to any movement. We can then at an early stage analyze, investigate and ultimately remedy. This is an innovation in the technology that we, together with the supplier, have developed and integrated into our monitoring system for dams, says Ronnie Furberg, Dam Supervisor.
Enhanced dam safety
"The state of the art online system has significantly improved our monitoring capabilities. Prior to the system, monitoring of dam safety was dependent on manual controls and measurements. This type of measurement is time consuming and provides a less accurate status of events at different measurement points than what real-time sensors provide," explains Ronnie and continues.
"When leakage in the dam exceeds limit values, a warning is sent automatically to the mill, which significantly improves safety and our ability to react accordingly. In addition, the system can help us identify weaknesses that cannot be detected during an ocular inspection of the dams.
High tech solutions
The unique system combines state-of-the-art online measuring instruments, such as fibre optic sensors, with advanced data processing capabilities. Three fibre optic cables have been installed at different levels within the dams to measure temperature, which can be used to quickly identify seepage points and flow through the dam.
"By analysing various levels we can evaluate the stability of the dams and prevent undesired consequences. The quicker we can identify changes, the faster we can take action," says Ronnie.
The ponds are equipped with 16 depth gauges that are also measured online, and act as an early warning system against significant pressure on the dam. Eight wells that collect leakage from the dams before it is treated have also been equipped with online sensors and CCTV cameras to closely monitor the status of the wells and water quality.
Five dome cameras have been installed around the dams that are programmed to automatically perform panoramic sweeps to monitor the ponds. Staff in the control room can take over the camera controls to investigate a particular area and teams are sent to carry out a site inspection if necessary. Daily physical patrol rounds are also carried out.
Staff in the mill control room can analyze the data from the system with built-in tools, for example by viewing data as trend curves to help identify any anomalies.