World-first for electric autonomous drilling at Aitik
What image comes to mind when you hear the term blast hole drilling? At Aitik, blast hole drilling is the technique used to access the ore from which we produce copper and to date this is a task that has been done using electric manually operated drill rigs.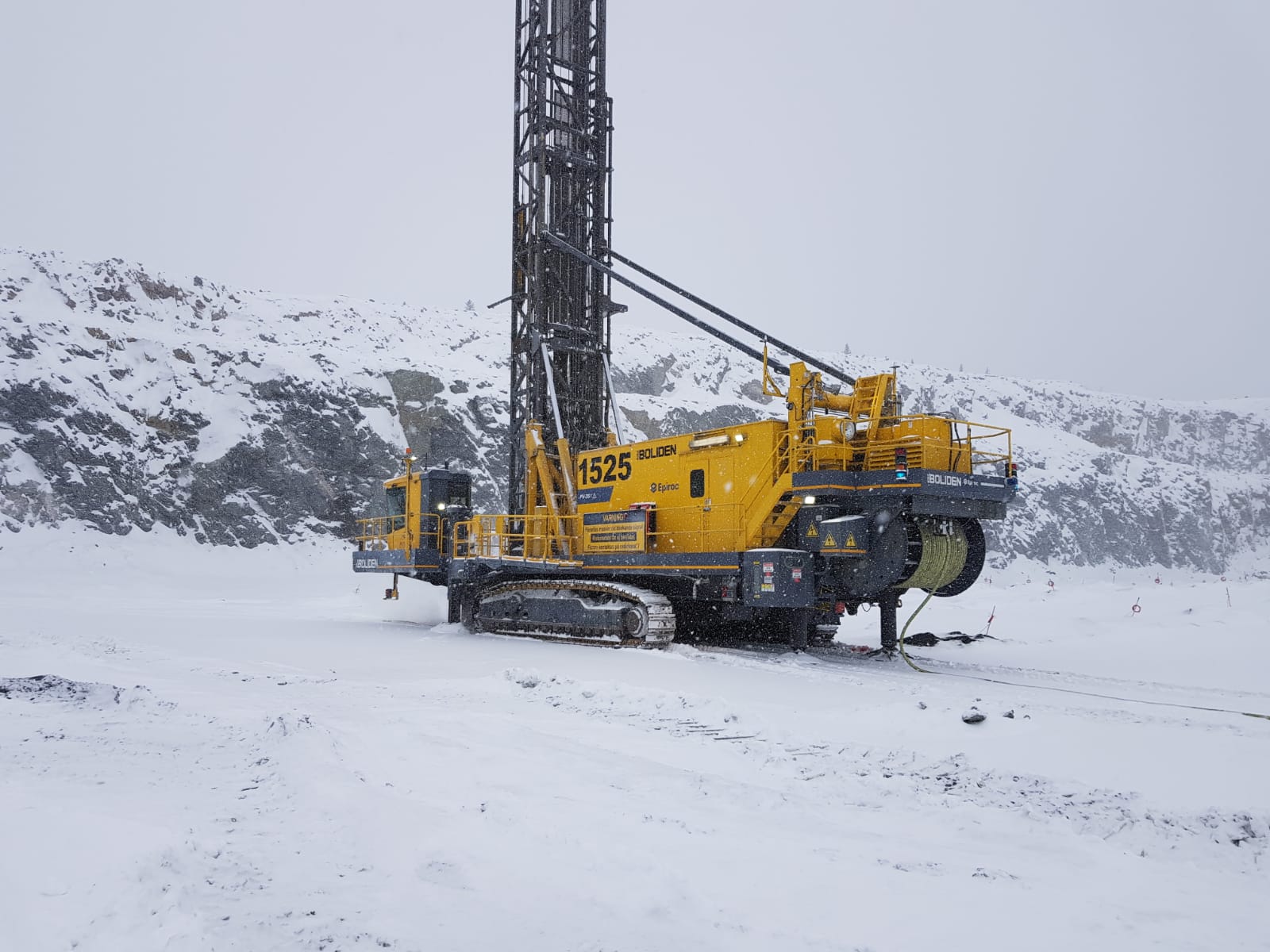 In an effort to improve the operator work environment, increase utilization and meet increased drill production targets, Aitik Mine Manager Erik Jänkänpää introduced an idea to trial electric autonomous blast hole drilling.
The trial ran through the month of March 2019 and was part of a three-year staged approach to autonomous drilling in Aitik that started in April 2017. The first part entailed tele-remote drilling. The results from that set the base for stage 2, a trial of single line autonomous. The third stage will evaluate the extent to which a whole pattern can be drilled with an electric autonomous drill.
The drill, an Epiroc Pit Viper 351, is currently running successfully and achieving 30% increase in productivity compared to the manned equipment (190m day). With the success of the project and positive feedback from the operators, a trial of autonomous drilling on two single passes (as opposed to multi-pass drilling) will be performed in late April, early May. There will also be a test performed with the soon to be commissioned LTE network in Aitik.
The KPIs will be reviewed at a steering group meeting on May 7 when a decision will be made whether to approve investment to upgrade the remaining fleet, which could start as early as October.
Shane Leighton, senior engineer Technology/Mine Automation, explains that the trial represents a world first using an autonomous electric Pit Viper drill. Currently, diesel automated Pit Vipers are becoming the norm in other mining operations.
"There are a quite a few mines in the world running diesel-powered automated drills; this is the first automated electric 351 Pit Vipers. What we have learned from the trial in Aitik will support an upgrade to the 4 x 271 Pit Viper fleet in Kevitsa to an automated fleet that is scheduled to start in 2020," Shane says.
The trial must achieve a number of KPIs covering three different areas safety, production and arctic weather conditions that will determine the decision to make a full investment. Currently, only single line drilling uses autonomous mode.
"Since we have never used this type of technology before, we wanted to be 100% certain that we could be successful before deciding to upgrade our entire fleet of Pit Vipers. The trial addresses that," explains Shane.
With regard to the safety, the same call-up procedures will apply when approaching the autonomous drill as for a manned drill. In addition, overview cameras mounted at various locations around the pit will allow the operator to gain a full overview of what is happening around the drill with four cameras located on the drills. A laser-based system for obstacle detection and a proximity detection solution are also new features designed to detect personnel; these will require staff to wear a tag that vibrates when entering the drill pattern.
The project team includes Boliden project manager Peter Palo, Niklas Johansson, representing the drillers, Shane Leighton from Technology, and Fredrik Lindstrom, Product Manager for Automation at Epiroc, Boliden's supplier for the drills and technology. The project was partially funded by the Mine Automation department.