From the copper refinery to the world and back
The courage to be determined and goal-oriented has successfully led Petri Viljanen to combine two very different careers: a responsible job as a process operator in Boliden Harjavalta's copper refinery and a demanding career as a referee on international football fields.
Football took Petri's heart at the age of 3, and after a successful playing career, he made a natural leap into the referee's boots. Refereeing has brought success, too. Petri has gained a reputation as a referee with an experienced understanding of the game. In 2018, FIFA appointed Petri as international referee and last year he won the prestigious Georg Krutelew Award for Male Referee of the Year 2019. This recognition is an indication of the significant developments made in football refereeing in Finland. Recently, Petri's one big goal was fulfilled when he made it to whistle as a referee during the Europa League group stage match in Ireland.
Are the careers of referee and process operator so different after all, or are there similarities? What lessons can be drawn from the football field to the world of work or vice versa?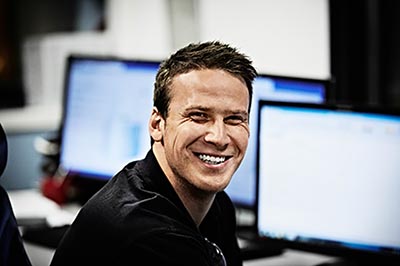 "You can learn from both of them, especially I would highlight the team game, we are just as strong as what our weakest link is. With different people, you have to know how to get along and be able to get along with good communication. Successes are often backed by the courage to be yourself, honest and challenging yourself to develop and learn new things," says Petri, who will reach 8 years in Boliden's jersey this year.
Petri has also boldly taken on new challenges in work life. Petri was elected to the position of responsible steward in May 2020. He was inspired to take on a demanding position with the desire to challenge himself and put himself on the line for the employees and to develop a negotiating culture.
"Being the mouthpiece of the staff has further strengthened my courage to speak up and stand up for what is right. There is also a desire to challenge current habits and then develop our operations. In my opinion, courage means leaving your comfort zone and starting to see things with new eyes."
Combining working life with refereeing responsibilities is, of course, sometimes challenging and requires flexibility, both in the workplace and in civilian life. Petri has dared to throw himself because he has been trusted and believed. Both at work and at home.
"Combining work with refereeing is not always the easiest equation. Of course, I'm going to add family and friends to the equation. Sometimes we come up with special solutions when it comes to time. For example, working out directly after a night shift has become familiar, because then it doesn't take time from family and friends. Personally, I think it is very important to be flexible in many directions in working life. Flexibility in our department has worked very well, whether it is flexibility towards the employer or vice versa, as well as between colleagues. It's a team game at its best!"