A unique deep underground repository
At Boliden Rönnskär a unique innovative solution for long-term storage of process waste is in place. Nowhere else in the world is such a deep underground repository located so close to a smelter. It is here where process waste from the plant will be stored indefinitely.
A total of 330 meters below the industrial site of the smelter, Boliden has constructed a deep underground repository for process waste. The location of the repository was chosen because of the properties of the bedrock, and to minimize transportation.
Environmental legislation focuses on mercury; if waste contains more than 0.1% mercury, it must be stored in a deep underground repository. However, only a small part of Rönnskär's waste contains mercury – instead the majority is comprised of residues containing other substances, which is currently stored on the industrial site. With our values as a basis, Boliden made the decision to place all process waste from the smelter in the repository, along with those generated from daily operations.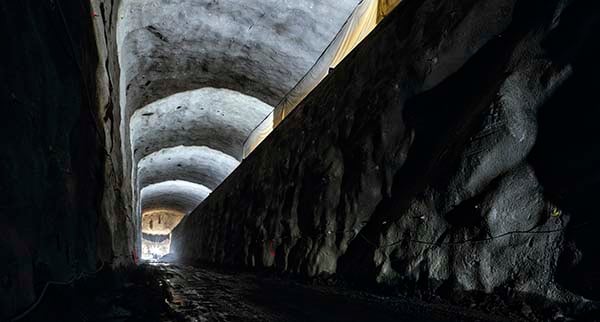 Tunneling into the bedrock began in May 2015. Depositing started in February 2022.The repository consists of a 3-km-long ramp and storage rooms accessed via a connecting corridor. A stabilization plant pretreats certain wastes before being placed in the repository. Stabilization minimizes the risk of leakage.
Depending on the kind of waste, a deposit can be done from ground level or via a raised ramp in the storage rooms. When one room is full it will be sealed forever. The facility also contains a vehicle wash for the vehicles that transport the waste. The wash water is treated in a separate water treatment plant.
The repository will increase Rönnskär's flexibility to receive and process complex raw materials. At the same time, a long-term sustainable solution is created for waste management at the smelter.