Tomorrow's mines are digital
Modern mines are becoming increasingly digitised. Boliden is currently conducting a unique initiative to develop automation in mines. This takes place in a cross-functional programme with employees from various departments, together with external parties such as Volvo, Ericsson, Atlas Copco and ABB. The long-term goal is to streamline mining so that production can continue round-the-clock, all year round.
Peter Burman, in charge of Boliden's mine automation programme explains: "Today, there are distinct peaks and valleys in the production flow in mines. During shift changes, lunches and breaks, production falls significantly. With better production control, productivity could increase by between 10 and 20 per cent. If we use autonomous machinery that operates even when nobody is present, that number increases to between 40 and 80 per cent."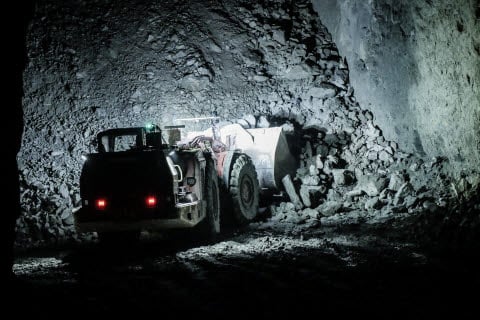 It began with the network
The Boliden mine in Kristineberg has been in operation since 1940. In 2012, the mine was the first in the world to employ a combination of wireless networks, IP telephony and positioning. The network had 100 per cent coverage over a total distance of 35 kilometres. Today, all communication takes place via the network. In the next phase, Boliden installed wireless networks in the Kankberg and Garpenberg mines. The latter is currently Sweden's most modern mine.
A clear strategy is to avoid specialist solutions that only work in the company's
own environment. It must be possible to sell the solutions developed with our various partners on a global market.
"If we take the wireless network as an example, in our case it is an extension of
the office network. It is not mine-specific and contains no unique components. The telephones used in the mine are another example. They were actually designed for the healthcare sector, to handle being cleaned with spirits. Their moisture resistance makes them ideal for use in a mine environment," exclaims Peter.
The advantages of positioning technology
Wireless networks allow the use of positioning systems, which have a number of advantages.
"The mine used to be like a black hole, but now we can see what is happening
down there in real time. We can do things like controlling ventilation depending on where in the mine vehicles are located and whether or not they are operating, thus sparing the environment and conserving resources. This technology also leads to reduced emissions, as operators can plan their runs better and use ecodriving," explains Peter.
Safety the biggest gain
While all of the projects in the mine automation programme have great potential for increasing productivity, the biggest gain is in safety. One example is 5G, the fifth generation of mobile networks, which has been tested in partnership with Ericsson at one of Boliden's mines. The technology provides shorter response times and better remote control capabilities. Thus, the successful implementation of 5G should lead to a safer working environment.
"We will have access to technology that gives us greater scope to remove staff from hazardous areas. Shorter response times are crucial as we prepare to make greater use of remote-controlled machines," explains Peter.
Another interesting project concerns fire safety and is being conducted together
with researchers from Luleå University of Technology, among other institutions.
The project is investigating the possibility of using remote-controlled work vehicles, such as fire-fighting units.
"It means we won't have to risk lives in the event of a rescue operation," says Peter.
Another project being tested at Boliden's Kristineberg mine is the rescue function.
In an emergency, the system will strip away all production-related information
and only show people and rescue chambers. This will allow targeted efforts to help employees in a specific location.
"This not only provides support for operations centre personnel, but also for
the emergency services. Just being able to see a 3D view with the people in danger clearly marked before the rescuers go down into the mine is a huge help," says Peter.
Hottest projects right now
As an early adopter of mine automation, Boliden has taken on something of a client role. The company acts as a test facility, as well as the standards setter for a number of different projects.
"The highest priority projects at the moment are autonomous trucks and remote-controlled loaders. But fully autonomous mining robots are probably a long
way off," concludes Peter.
TEXT: EVELINA LÖÖV
PHOTO: TOMAS WESTERMARK