Plastic separation plant under reconstruction
Boliden Bergsöe's plastic separation plant is under reconstruction. Work is progressing rapidly, and the facility is expected to come online in the autumn 2019.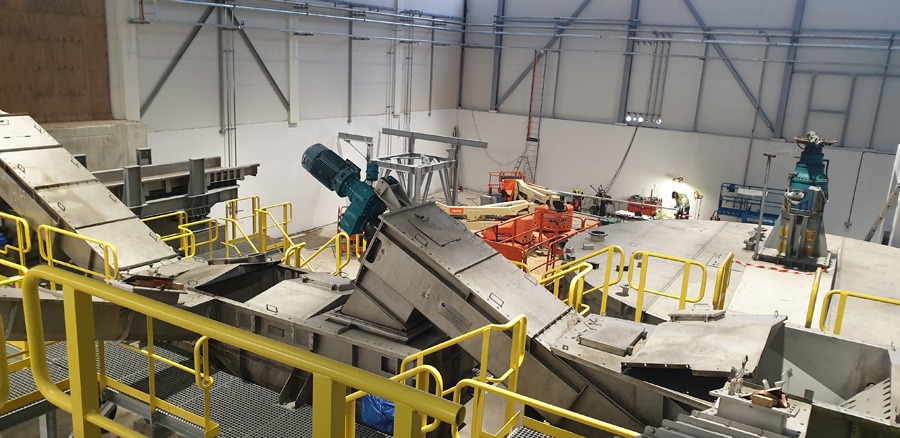 On 19 January 2018, Bergsöe's plastic separation plant burned down. The fire broke out during the final stages of installation work for the new plant. Two days after the fire, Boliden made the decision to rebuild the plant.
"The plastic separation plant is an important investment in our improvement work and ensures safer production for our employees, and less plastic entering our furnace will reduce the amount of energy in the process gas system. In addition, we recycle more components in the batteries, enabling us to reduce our CO2 emissions by approximately 25 percent," says Fredrik Kanth, Technical Development Manager.
Car batteries consist of approximately 10 percent plastic – just over half of which is polypropylene (PP) that can be easily recycled. The market for PP plastic is good, as car manufacturers have now committed to using a certain percentage of recycled PP plastic for battery boxes. Plastic from the batteries recycled at Bergsöe is of a high quality, which means it is suitable for use in new battery boxes.
"This is a great example of how we can improve safety and promote environmental benefit while also creating financial value from waste," explains Fredrik.
The plastic separation plant may also put Bergsöe in a favourable position with regard to future legislative demands, as plastic separation may well become mandatory under the EU's Industrial Emissions Directive and its applicable Best Available Techniques (BAT) in the coming years.